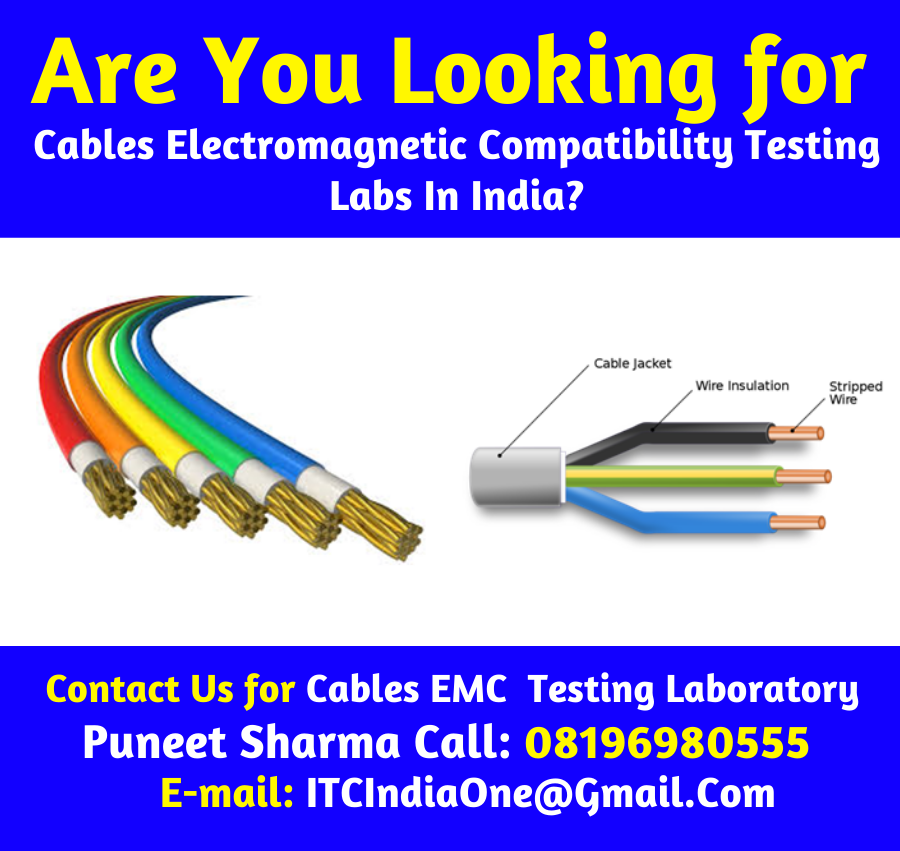 Are You looking for Cables EMC Electromagnetic Compatibility Testing labs in India?
Advanced Cables EMC Testing Laboratory
If you are looking for a Cables EMC Testing Laboratory in India, then you are in the right place. ITC India Can Help You! ITC India one of the best Cables EMC Testing Service Providers in India. ITCIndia Can do Cables EMC Testing as per IEC / IS, EN, ISO, BIS Standard.
Know the testing Fees against standard IEC/ IS for Cables – Email Now!
[email protected]
ITC India is having best Cables EMC Testing Labs to test Cables. We provide all types of testing related to Cables. Call at 08196980555 for Cables EMC Testing Laboratories.
ITC India Electrical safety testing lab provides Cables EMC Testing in India, Mumbai, Ahmedabad, Chennai, New Delhi, Bangalore, Pune, Hyderabad and all over the World.
Cables that are used in Electronic Equipment play a significant role in the overall EMC situation either in a positive or negative way…
The electromagnetic compatibility (EMC) principle of cables is that communication signals should be kept inside the cables, and outside electromagnetic fields should not disturb the data transmission inside the cable.
The requirement for COAXIAL Cables designed for Broadcast and communication Technology  to avoid interference  problem
| | | |
| --- | --- | --- |
| Sr. No | Metrics | |
| 1 | Impedance | Less than 5 mΩ/m from 5 to 30 MHZ |
| 2 | Screening Attenuation | 85 dB from 30 – 1000MHZ( Screening Class A , in IEC 61196-6 ) |
Majority of Coaxial cables available in the market do not full fill the above said the requirement that lead to EMC and Mechanical weakness. Thus, affects the immunity of the equipment.
ITCIndia is a leading provider of comprehensive testing services for electrical and LED lighting products. Our global network of technical experts, combined with our state of the art testing laboratories, assure a single-source solution for meeting all applicable requirements, standards and voluntary schemes. And ITCIndia technical professionals are actively involved in international advisory boards and standards development activities, ensuring the most up to date knowledge of current and changing requirements.
Represented in over 5 locations in India, ITCIndia has an unsurpassed track record of meeting and exceeding the requirements and expectations of our client companies. The ITCIndia brand and our distinctive blue octagon mark are instantly recognized around the globe as symbols of quality and safety Testing and will increase customer confidence in your brand.
ITCIndia can assist companies in low-cost life testing and evaluating of their products for pre-compliance and compliance testing to schemes such as The Carbon Trust Enhanced Carbon Allowance
If Your Buyers Demanding for Cables EMC Testing.– Contact Now!
Kindly send us the following Details, So that we can provide you with a quotation for the same:
Product Name, Technical Specifications, and Brochure

Product Images

Total Number of Samples Required: 2
Wish this blog post will help. If you have any other questions, please feel free to contact us. ITCIndia team looking forward to working with you and get better together!
Mr Puneet Sharma | Call:

 

08196980555 

| 

E-mail:

 

[email protected]
Get Instant Quotations, Fill the Enquiry form: